Hello again!
I have searched the interwebs but alas – found nothing. I am an avid user of MOD-UI and my recent (and first) solo gig brought some things to my attention.
I played almost half the gig with too much reverb cause I missed the setting of the reverb in MOD-UI and the monitoring situation was just terrible.
I use a LaunchpadX for controlling my FX and it has that wonderful function, that u can send the MID CC back, and it will show on LaunchpadX.
I figured maybe I can let MOD-UI somehow broadcast the MIDI controlled paramters back to the LaunchpadX. As of now I even don't know if that works, if there is no CV-to-MIDI plug in.
But my problems start even before that. MOD-UI does not show the correct MIDI-Out for the LaunchpadX. it does show the MIDI 2 output, but u use that for doing lightshows on the thing.
Here is what i got:
MIDI config in MOD-UI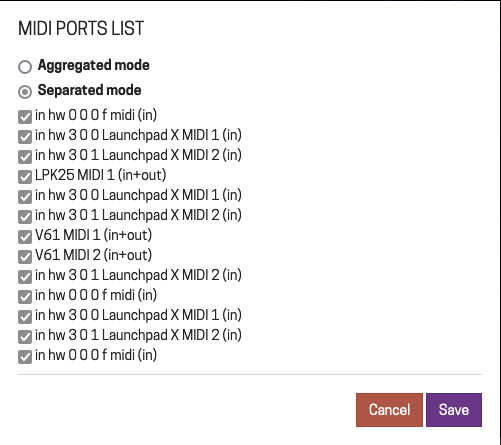 I wonder why there are so many input ports and no outs? That may also be the cause of the MIDI clock doubling I encountered.
But I have only one LaunchpadX output port (the wrong one)


MIDI config in Zynthian


or this:


So i would need "Hardware out hw 3 0 0 Launchpad X MIDI 1".
Fair warning: it could well be I disabled it somewhere in the Linux bowels 1 or 2 years ago, but now completly forgot it.
Any suggestions?