I'm currently in the process of building my first proper zynthian box (previously had it in a cardboard box):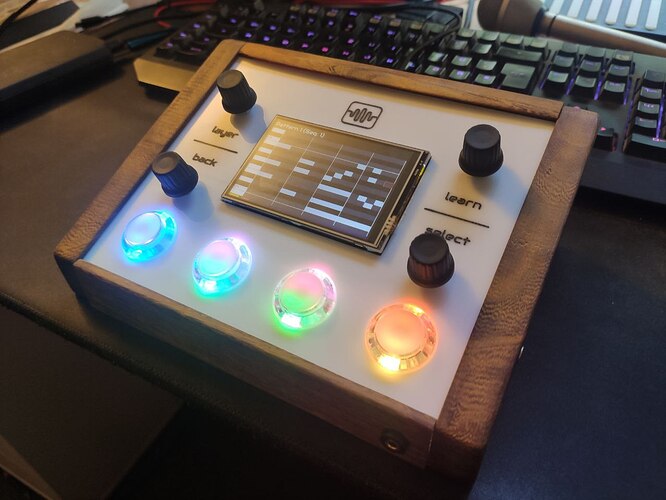 The arcade buttons are wired to an MCP23017 and work like regular zynthian buttons at the moment. I also have some WS2812B LEDs behind them (2 per button).
I plan to use Zynthian in a portable, battery powered live looping setup. Using the RC-505, somewhat similar to Marc Rebillet.
An important part of that plan is the ability to quickly switch between sounds without much thinking going on. My idea is to have a 'Quick Dial' mode on the 4 buttons, supported by the LEDs:
Category page:
Drums (Blue) | Bass (Red) | Keys (Green) | Misc (Yellow)
Drum style page: (Different shades of blue perhaps)
House | Techno | DnB | Hip Hop
House page:
Drumkit #1 | Drumkit #2 | Drumkit #3 | Drumkit #4
and so on for the other categories & styles…
This would allow me to quickly get to any sound I need for making many kinds of music.
I am able to control the WS2812B leds with python via the rpi_ws281x library.
But I'm not sure how to go about interacting with zynthian itself…
What would be the best way to switch to a certain synth engine/preset/snapshot programmatically?
I was also thinking of implementing some info on the screen, for example the current Quick dial page or option names, pretty much where the touch buttons appear.
I know my way around python, but I'd love to get some hints on where to look and dive into the zynthian project (if that's even necessary).