I have just finished building a Zynthian for my brother as a 40th birthday present (we are both into synths and music tech). You may be familiar with the 'crosley' record players which are also sold under many different brand names in a portable suitcase style case; they are cheap and cheerful, and quite poor quality record players (and in some cases not very friendly to your vinyl as the stylus is low quality and tracks heavily). I had a broken one of these that only cost me a few pounds - the main board had failed - so I decided to repurpose the case and build a Zynthian. Here is the closed case, from which I stripped the original bright blue faux-leather covering. It was covered in glue which I had to sand down and then I repainted the case in grey: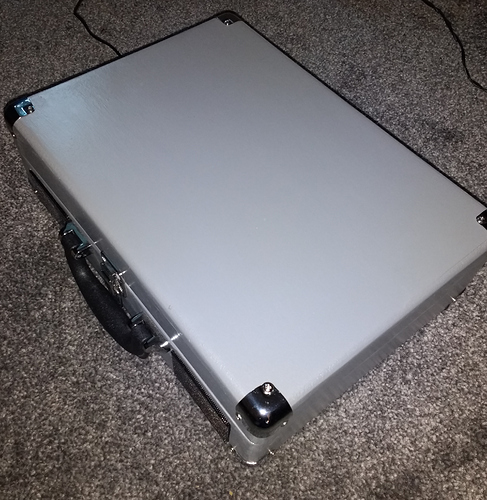 The case is obviously far bigger than required and I know that the official Zynthian case is far smaller! But I liked the portability of the record player case and all in grey I think it ended up looking a bit like a piece of lab equipment which is quite cool. The record player had some built in speakers which I was also able to reuse by adding a tiny amplifier circuit (purchased from ebay for £3) which works on 5V DC so I connected to the +5V jumper on the Hifiberry DAC and used the extra output jumpers to feed the audio.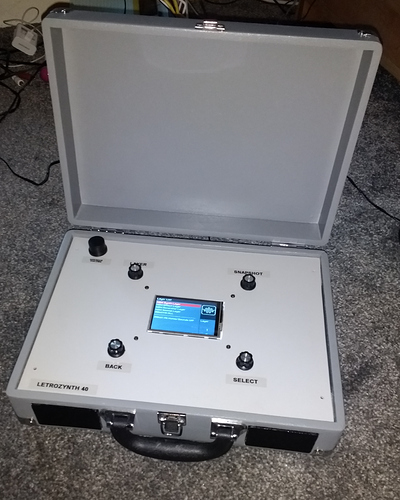 The only thing I have not been able to fix is the touchscreen which has the X axis inverted. It's a cheapo Elegoo 3.5" screen which I am using with the Piscreen setting in the webconf. The screen also seems quite slow to update so I'm not sure the settings are quite right. Other than that, all is working well!