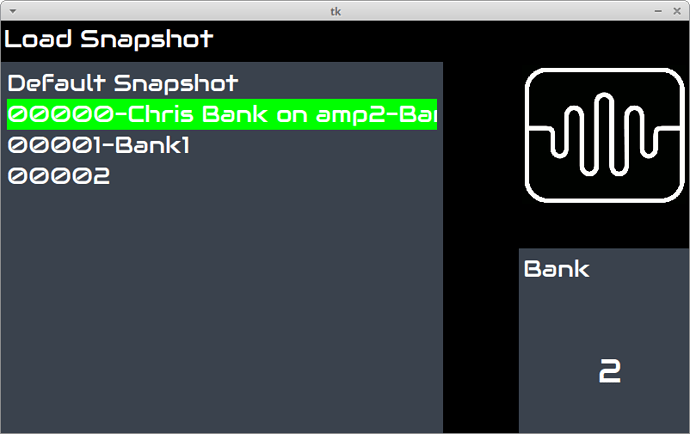 We now start up on the load snapshot page which is good!
The page itself is not so good.
We obviously load the default snapshot, but, We don't actually tell a completely innocent user what the default snapshot actually contains.
What are you going to hear when you press a key? This screen doesn't tell you.
And there is an object inconsistency. The default Snapshot is exactly that. A Snapshot, but the other items in the list are banks, and the distinction is not obvious. Again new user confusion.
So selecting a bank . . .
we get to the place where you can actually Load a snapshot!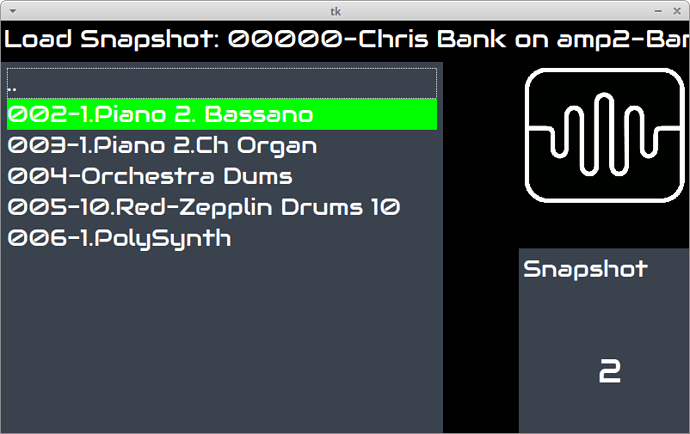 and now we can actually load a snapshot.
Suggestions.
1/ Dump the default snapshot simply allocate one from the webconf as a once selectable checkbox against each snapshot, and display the details of that
or:
2/ Leave the default as the last set up loaded . . . (crashes…?)
Change the name of the first load snapshot screen to select bank and display the name in the Title bar of the selected bank.
or possibly loose the concepts of banks for snapshots completely …? Are people going to just want a few snapshots generally and if they are going to structure them into banks is that, perhaps, a concept to introduce off the main snapshot line as an extra feature?
Also when you are in the start up screen you don't have the volume control allocated to the top left knob. That way at least you have someway of turning down what you play on the keyboard without having to dig around in the interface.
That would make it much more friendly when people start it up.