A pretty interesting concept and a really cool modular approach to daw functionality.
It looks really nice ! I think, I will give it a try.
I'm loving it!!
For a bit of context, never in my life have I found myself just playing around and creating music inside of a DAW (or anything that works like one) in front of a computer, and this has got me completely hooked!
Now if only I could have this on a raspberry pi 4 with a 5 inch (or 7 inch) display…
@okyeron
it complains about libpython3.8.so.1.0 and I'm with 3.9 …
Fwiw - There's a PR in for a better build process with cmake -esp on linux.
Give it a couple days or look at the GitHub or discord if you want to try that
Yeah Bespoke is the bee's knees! I've been addicted to it since that tweet went out

New build process got pushed to main. Check GitHub for details.
Much easier on linux now
That's good. Sadly it does not compile on my Ubuntu 18.04 system, because it wants a newer CMake (filed a bug report already). Would be great if the build requirements could be wound back to encompass the many users of older Linux systems.
Or current systems. 18.04 is LTS within standard support hence is a current OS.
Did anybody try to use Bespoke on the Zynthian

?
Possibly install it along the Zynthian OS? Being able to use a Bespoke patch as one Zynthian layer would be pretty awesome (or as a special layer, like MOD-UI).
Hey thank you for the reminding !
I can now install it on my computer, and it looks great. The documentation is so HUGE (But simple and clear, I really love it).
UI use massively keyboard and/or mouse so I will first give it a try on my main computer.
What's cool: they are many available linux flavours to download (for Windows and Mac too) but there is no raspbian version and Bespoke use VST plugins system wich is not supported by Zynthian. But source code is on Github, and they say:
Building Bespoke from source is easy and fun!
so …
I am a newbie in making elektronic music. It is kind of a new hobby for me since the pandemic. I bought some devices like the Roland mc101 but also sold them a few month later. The workflow is for me to much anoying menu diving on this guy.
A cool device is of course this great Zynthian Kit V4.5 which I own for a week now.
Today I have tried Bespoke which was easy to install and runs out of the box on my Ubuntu based Linux. And I am really amazed of this concept. It is so easy to create sounds and so satisfying to watch them pulsating through the virtual wires.
I would recommend to everyone to give it a try.
I agree.
I've played a bit with it this week end:
It tooks me 1/2hr to understand, 1/2hr to explore and then I had 2 hrs of fun


And with just only a few of of these "musical plugins" on the dashboard .
It's really dedicated for desktop usage but it's the most funniest and inspiring I have found these days.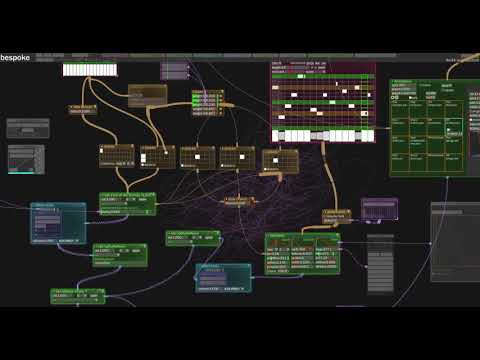 But for just plugin in some midi controller and produce noise, Zynthian is the best.