Hi Zynthianers,
Is there a way to add SuperWhammy Plugin in MOD UI ???
I have it in stretch version, but I can't found it in buster zynthianos, what is your version?
I see it in Buster build 2020-09-05. I see a total of 993 plugins available in MOD-UI. This is a standard build on a 4.1 Zynthian fully updated.
I can confirm that the plugin is available in the latest stable image "Buster RC3":
https://os.zynthian.org/2020-09-05-zynthianos-buster-lite-armhf-1.0.0-RC3.zip
It's available for using on MOD-UI, but initially disabled for using from the zynthian-UI. Anyway, enabling from webconf is trivial: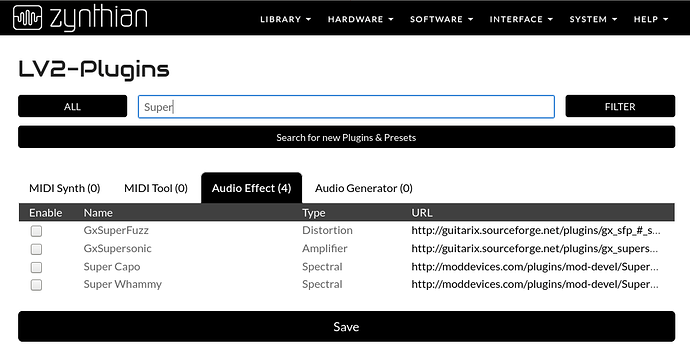 Regards,
Ok sorry, I'm using Buster rc2 2020-05-27.
Thank you all

maybe this is not the right conversation for my issue, but with latest stable image (buster RC3 2020-09-05) on my Zynthian's display ,(Waveshare32B) I can see only white screen.
My zynthian's configuration works perfectly with Stretch RC3 2019-06-26 and Buster RC2 2020-05-27.
Is there someone thats can help me to use buster RC3 2020-09-05 ???
No, for sure this issue needs a specific topic.
Display issues are pretty common and maybe you could find some informations already elswhere in some thread.
Aldo, did you check that your display work correctly with a regular raspberry Pi Os ?
as describe my Zynthian's configuration works fine with Stretch RC3 2019-06-26 and Buster RC2 2020-05-27 and latest update.