Hi everyone,
I have two zynthians (OZINE

), unfortunately, only one is functional and I can't manage to get the other one working with my Joy-it display, which is - I think - a clone of the waveshare 3.2b. I saw in a thread that someone had an issue with this display, and that the "waveshare 3.2b" option in the hardware set up of the webconf was working, however, it didn't help me solve my issue.
An overview of my zynthians hardware (both are with the latest Aruk-Buster image, then updated)
Raspberry Pi4, 4go
Hifiberry DAC+ADC
Zynaptik (homemade, encoder and midi parts only)
generic hdmi display (5"), wired on the HDMI port, and powered by usb from the rpi
"Custom kit" and " MCP23017_ENCODERS" wiring, "Generic HDMI display"
This one works great
Raspberry Pi4, 4go
Hifiberry DAC+
All-in-One circuit from official kit
Joy-It 3.2 wired with the ribbon cable
"Custom kit" and " MCP23017_ENCODERS" wiring, "Waveshare 3.2b"
This one does not work.
The Joy-it screen lights on (dark light, not white) when the rpi boots, then, it shuts completely down (no light) after few seconds, which to me corresponds when zynthian is up to run. As long as the screen is plugged, the webconf charges indefinitely and can't be reached. As soon as I unplug the screen, webconf is working, showing my zynthian's caracteristics. The GPIO expander is not recognized at first, but if I refresh the page, the GPIO expander is recognized as MCP23008 (not as MCP23017, as it should). Here the screenshot of the webconf: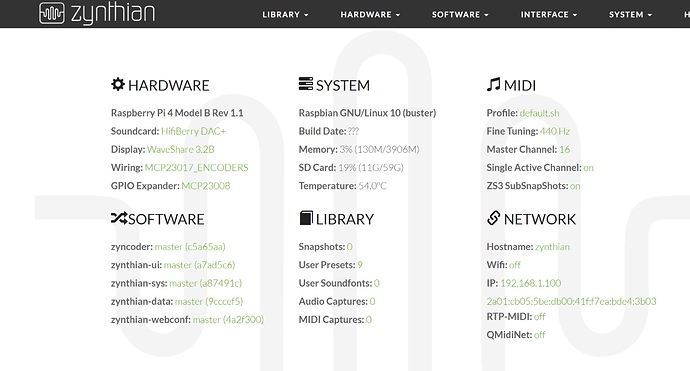 I tried to plug the screen directly on top of the Rpi+hifiberry, and it works. Zynthian menus are displayed, however the touch is not well calibrated. When plugged in, I tried the different waveshare 3.2 versions for the display set up, and none of them worked.
I have a TFT 2.8 touch shield for rpi v2.1 that I got from the zynthian outlet, I tried with it, changing the display set up to TFT2.8 resistive (i also tried with capacitive), and same symptoms happen, screens lights on then shuts down like the Joy-It, and webconf only accessible when display unplugged. I also tried both Joy-it and TFT2.8 displays with all possible combinations of the hifiberry cards cards and all-in-one/custom zynaptik circuit, with no luck, symptoms are always the same. When I use the 5" HMDI display, all combinations are working.
It seems to be a conflict between some pins, but I don't understand, since the all-in-one/zynaptik was made especially to avoid those issues by using pins unused by displays and sound cards. I also made a new ribbon cable, to avoid doubts coming from a loose contact, and always checked that the display was wired properly (pin 1 to pin 1 of the rpi…), and it didn't solve anything.
Am I missing something ? I have the feeling I am making a very obvious mistake that lies right in front of my nose, but can't find it !
Thanks for reading until there

And since it is my first post (hopefully the next one will be in the successful build section!), I would like to warmly thank Jofemodo and all the people that make zynthian exists and always getting better and better !!