Uuuh, look! Wires on floor… This proves you are human

Hi @C0d3man!
Why not using a "14" font size with the kit v2?

Note: Obviously, we want some audio from the concert … jeje!

The best!
Cause my eyes are better than yours?

The current place on the floor is not the best and I will move it to a better place. Also the very cheap MIDI-keyboard is only scrap. I am waiting for the v3 kit and will integrate it with a better keyboard into one case.
Maybe later. Current problem: No recording equipment for live recording available. And the mic from the smartphone is overloaded by noise
Regards, Holger
The Zynthian could record itself …
Hows that for a brave test …?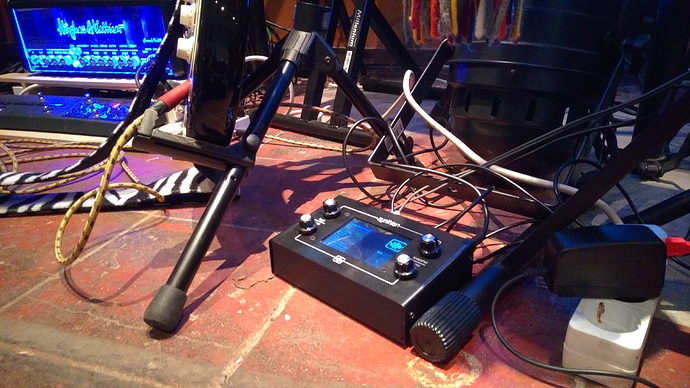 We're making a foot pedal ain't we …?

Be even nicer if the screen were at a nice level with encoders . . .
so we talk about 12c interface issues . . .
Should we avoid any 12c external wiring and do it all over a USB when you consider the environment it's in ? . . . .
Do we really want to get into the world of defining a physical interface . . . ?
Lot's of fun questions…?

… but only piano is only half the fun of our noise

With the new hifiberry I could connect mics but I think they would also have trouble with overloads…
Regards, Holger
Yes…
The great audio in debate…

From the zynth point of view a set length audio record even with the silences of just the piano, would be a major achievement as a proof of the device. . .
And do we get to hear the Zynhian keyboard part… ? I can make out a lot of Geman lyrics ( and we have rules about that …

) and some some chords that look suspiciously power based . . . .
Apologies and all that but it's what I do round here . . .

Perhaps later when my new Ui24 is installed.
Uhh, ahhh, I am mainly playing guitar in this band (yes, I really like power chords and tube distortion). The strat and the blue shiny amp is mine. The song is a cover song from Udo Lindenberg (and lyrics are defined as art, so no bashing allowed

) where I can play some piano parts on my Zynthian instead of guitar.
Regards, Holger