Hello Zynthians, I think as a newbie to Zynthian (Kit 4.5, RPI4, 8GB) I need a little help to get a setup idea running. I like to build a setup where Zynthian acts as a flexible keyboard expander for live playing with multiple instant available instrument/synth plugins, also with multiple activated/layered instruments in parallel.
And in a second step I like to integrate a stereo looper and use Zynthians big choice of instruments for having live looping fun. But because of missing functionality in the SooperLooper plugin (undo/redo not working, only mono) I pushed back the looping idea at this moment. Maybe I will use an external looper device in the future.
For now my idea is to have multiple layers setup on Zynthian with different instruments and that you can switch on/off and control volume of multiple layers with the help of an external midi controller (NanoKontrol2) while playing live. There is one stage piano (Korg SV-1) that acts as the midi input for notes and sustain pedal. Other incoming midi events are filtered by Zynthian. Here a foto from my setup just for some impressions: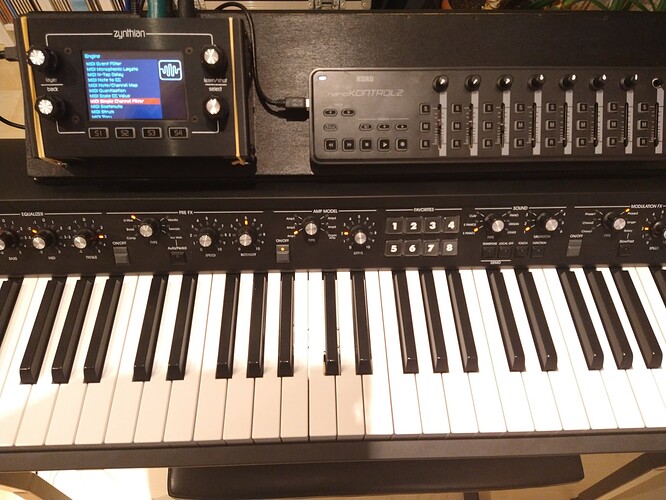 While volume control exists in all relevant synth layers I haven't found a midi implementation of Zynthian to active and deactivate layers that can be controlled by an external midi controller yet. So the idea was to use a midi fx layer with the "simple channel filter" added to each synth layer and midi learn the channel filter linked to Korg NanoControls buttons and clone midi data from the input midi channel. But this doesn't seem to work properly. There are some strange midi routing/learning issues. To have on/off switching I think is a good idea to take care on available system ressources.
Maybe I am on the wrong track with this setup. I am looking foreward to your suggestions and ideas. Have a nice evening