Hi @zynthianers!
After adding the App menu, i've been rethinking about the UI, specially regarding the suggestion of adding a Main menu … and finally i've decided to remove the App menu and add a new Main menu. BTW, I've tried to improve the workflow a little bit, but keeping all the essence you already know, without adding extra steps for most of tasks while simplifying when possible. I'm quite satisfied and hope everybody will be too

These are the elements for Main menu: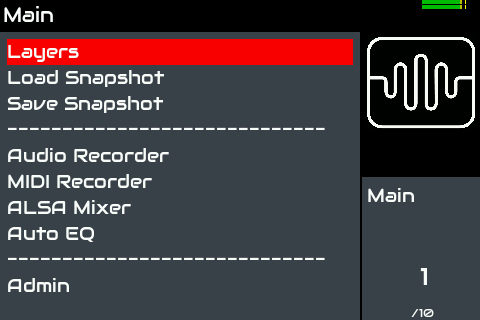 Now i'm updating the Wiki's User Guide and workflow diagrams ASAP:
Until the docs are updated, these are the important changes on the workflow:
The Main menu is part of the "Main Screen Sequence", between Admin and Layers.
You can access Main menu with Bold-Back from "almost" anywhere.
Bold-back from the Main or Admin menus will take you to the control screen.
Long-Snapshot will open the Audio Recorder. Click Snapshot again for rotating between Audio and MIDI recorders.
Ahhh! BTW, i improved list navigation by using "acceleration" when list is long (>96 elements)
Update & Enjoy!