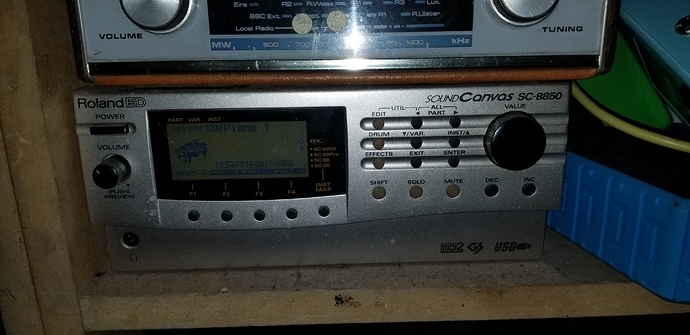 This is my good old sc-88. When I load it into my device chain from my pc, I can throw gm at it on lots of channels and it plays them all.
On zynthian, if I load up an sc-88 soundfont with fluidsynth, I can pick one instrument from it.
Is there a way to make one sc-88 instance play multiple sound sources in the same way? I guess in a midi file the instrument setup is often in the opening notes for the channel.
I can now pick which midi channel I am playing from my keyboard, but can I scroll through instruments on the same device or play multiple instruments from the same device?
If this is possible, GENUINE ROLAND SOUNDCANVAS FOR SALE or SWAP… WILL TRADE FOR FULL ZYNTHIAN DEVICE OR EQUIVALENT ORDER FROM SHOP.
I have various other old school sound devices which I would consider releasing .
Meanwhile, I have just replaced the PI 2 I started out with, for a PI 3b+.
I'm still tuning my Behringer u-phonia and just ordered a sm57 to plug into it.
I have a case, io hat and rotary's on their way in.
I am a genuine convert, but there is still so far for us to go before I have the device of my dreams.
Onward.