Could anyone please let me know the metrics and the name for me to find this screws online please?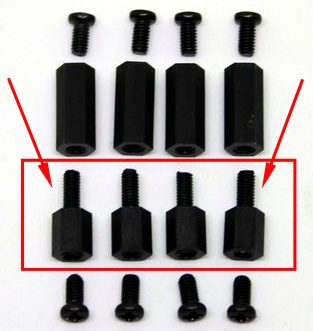 I believe those are called male-female threaded hex standoffs.
The measurements are as follows:
4.5mm hex
6mm long
M2.5 x 0.45mm thread
(I had to order those bits of hardware online, too!)
Hope this helps!
Thank you so much


Do you remember by any chance where did you ordered?
Kindest regards
I ordered from McMaster-Carr, in Chicago. Basically, if you can name the hardware, they have it.

I'm glad I was able to help!
Nailed it!!!
Thank you so much.
Huge help
The "Bolts & Nuts" kit has been disabled from the shop because almost nobody bought it separately .
This is the full description:
4 x Display Bolt+Nut M3, black anodized
4 x Display Separator, white nylon
16 x Bolt M2.5, black anodized
8 x Separator 12mm, M2.5 female both sides
4 x Separator 6mm, M2.5 female one side
8 x Selftapping Screws, black anodized
4 x Self-adhesive Rubber-feet
Regards,