hi… what you are watching is… zynthian on a graphic tablet display.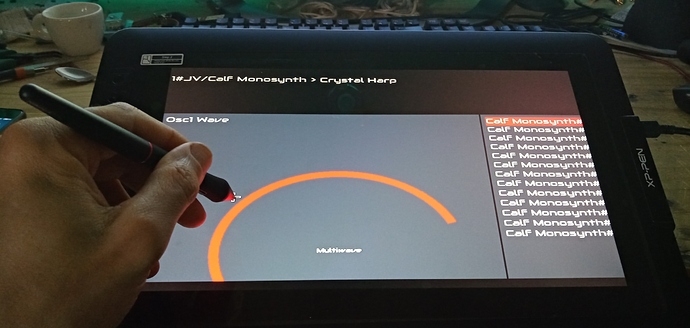 it's a very cheap but incredibly well built and precise tablet display from xp-pen.
there are also 12" too.
the sequencer affair would really benefit from this interface. but not only that.
This display is totally self powered/controlled by usb, so raspberry can hold it and no other additional power (theorically) is needed.
The "magic" is tablet pointer works pretty well calibrated and acts as an absolute pointer as expected. No mouse mode. Just really what a graphic tablet does.
By now zynthian is configured encoderless and with hdmi display (of course)
The bad news are i didn't succede in correctly configuring display and UI proportions.
I mean, thisdisplay supports natively 1080p but can adapt to any resolution, already tried.
ButUI doesn't adapt at all. neither changing sizes on display tab in webconf or ui text size.
this is the maximum i can get.
What i'm missing?
regards