Oaoooo! Fantastic!
Could you give some more info about how did you prepare the demo?
Regards,
Wow, what an inventive set up, and a cool tune!
The demo playback is made using a Korg MicroArranger. I've transfered this playback to the capture folder on the SD. Once the playback is there, I can playback it (of coarse) or I can record the playback and the notes I'm playing on the keyboard. In the next Demos I will use Soundchange possibilities.
The best point is, that I have now a bestsounding keyboard that I can drive with a 5V powerpack with a weight of 6kg.
I will build "Rucksack" that I can carry my equipment on a bycicle!




Now it would be nice to use the transporter knobs for transport and record purposes. But it need MC or controllerdata.

J.S.Bach, Bouree, Variation
Did you arrange this Micki? Wonderful work!
In the canon of Western music, there is Bach, and there is everything else.

Hi Paul,
I'm learning to play notes and this is easier if you can play with different speeds. And: I do not like the metronom

A jethro Tull fan, sighs…

I have just finished building a Zynthian for my brother as a 40th birthday present (we are both into synths and music tech). You may be familiar with the 'crosley' record players which are also sold under many different brand names in a portable suitcase style case; they are cheap and cheerful, and quite poor quality record players (and in some cases not very friendly to your vinyl as the stylus is low quality and tracks heavily). I had a broken one of these that only cost me a few pounds - the main board had failed - so I decided to repurpose the case and build a Zynthian. Here is the closed case, from which I stripped the original bright blue faux-leather covering. It was covered in glue which I had to sand down and then I repainted the case in grey: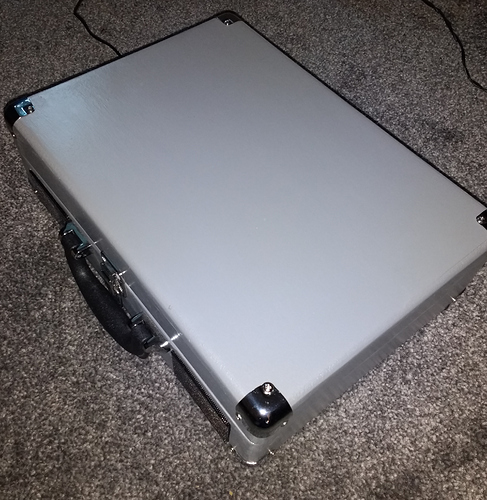 The case is obviously far bigger than required and I know that the official Zynthian case is far smaller! But I liked the portability of the record player case and all in grey I think it ended up looking a bit like a piece of lab equipment which is quite cool. The record player had some built in speakers which I was also able to reuse by adding a tiny amplifier circuit (purchased from ebay for £3) which works on 5V DC so I connected to the +5V jumper on the Hifiberry DAC and used the extra output jumpers to feed the audio.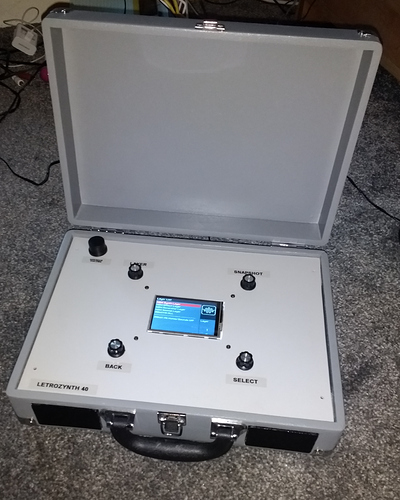 The only thing I have not been able to fix is the touchscreen which has the X axis inverted. It's a cheapo Elegoo 3.5" screen which I am using with the Piscreen setting in the webconf. The screen also seems quite slow to update so I'm not sure the settings are quite right. Other than that, all is working well!
OMG! This zynthian recalls to my desktop computer. I will send you a photo on monday …
Congratulations, enjoy and of course, …
Damn @wyleu! I falled too … the illness is sticky!!
Hello Barnabas,
have always good trips with your brother and your zynthian !
Barnabas, nice case.
Try to go to the Elegoo page. I had to do research on my waveshare as well.
Or search the forum for rotate and touch.
Nice case!
Congrats to your brother

Hi, everyone!
First time caller, long time listener! I bought a V2 Zynthian back in February. I built the case out of laser-cut acrylic.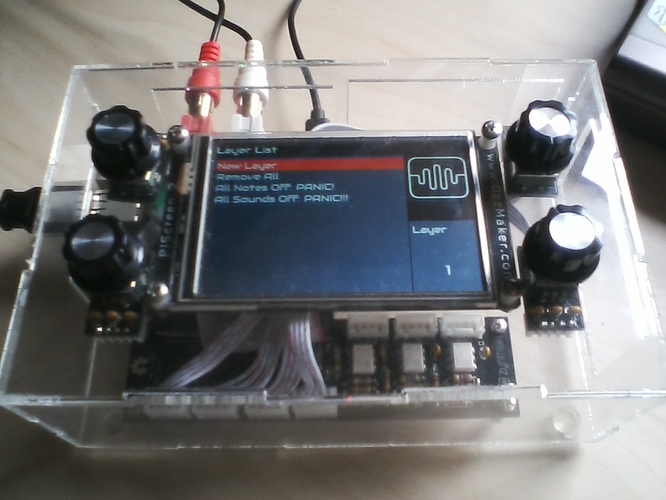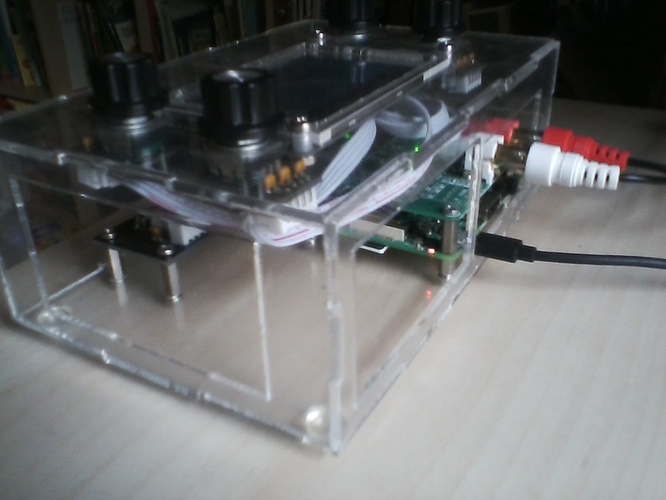 Now, before Mr. @wyleu does that
thing to me…
Some notes on the music:
The sounds are all Zynthian-generated.
The sounds were synced/arranged/filtered/mastered in Ableton Live.
Enjoy!
Very nice! I love the anticipation of the build. Which voices did you use? The lead voice is particularly rich… And you deserve a

Drums: SFZ > Drum Machines > Akai XR10.
Bass: ZynAddSubFX > Bass > Analogue Bass.
Arps: The only one I clearly remember is ZynAddSubFX > Collection > Sharp and Deep. There were more.
Main Lead: MOD-UI > Noize Mak3r > LD Neon Knife TUC.
Backup Lead: ZynAddSubFX > Collection > Overdrive.