Been tinkering with the Zynthian enough to feel comfortable to take it out to a rehearsal tonight. Set up a few audio layers for the upright bass and tried it out with a big band. I was quite pleased… it ran great, sound quality was amazing, and not a single hiccup.
I don't see a lot of posts concerning stringed instruments, so I thought I would share.
Here's a picture of my rig:
Brought the Yamaha Electric Upright tonight because it has a good preamp to feed into the Zynthian box. They play very nicely together.
Additionally, I tested out another new device I just finished up.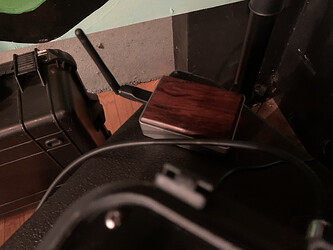 That tiny device behind the amp is a Raspberry Pi 3 running OpenWRT that I use as a wifi hotspot for all my devices (phone, music tablet, Zynthian). That way I can keep all my devices together and only update the network on that OpenWRT Pi, and they all connect through it. It worked out very well and allowed me to manage all my charts and keep an eye on the Zynthian without having to leave my spot.
I'm going to end up liking this Zynthian setup so much that I'll probably end up making a rack mount version as well. I've already started designing the faceplate… so I think it will happen sooner rather than later.