Hi Zynthianiacs,
some weeks ago I started a side project: MicroDexed. Dexed is the famous Yamaha DX-7 as a VST. Dexed-LV2 is a port of the VST to LV2 and so it is usable for us with MOD-UI.
MicroDexed is a port of the raw Dexed engine with some MIDI-SysEx-magic-glue towards a Teensy(-3.6). On the Teensy-3.6 you can solder a USB-Host port, so you can drive MicroDexed with a USB-MIDI-keyboard - or you can build an additional MIDI-input-circuit. You also need an Audio-Adapter board, which has audio I/O and a headphone output.
The Teensy also has a SD card slot (on the Teensy itself or on the Audio-Adapter) where you can drop SysEx files for sounds. The current MicroDexed can switch volume, bank and voices via keyboard.
Currently MicroDexed works - but it is not ready. The sources are located at GitHub.
Here is a picture from the current Dev-Board (as every time with the nice table cloth

):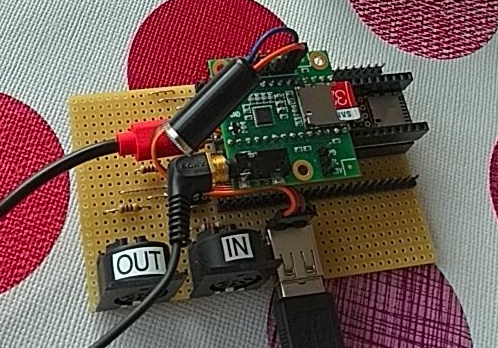 NOTICE: If you want to build a MicroDexed you have to order a Teensy-3.6 (and not the Teensy-3.5)! The Teensy-3.5 works, but it has no USB-host and only enough CPU power for 10 voices of polyphony at a time!
Regards, Holger