OB-Xd with all the effects! Vember Surge confirmed! Multitrack recorder!
Twin HDMI?
They've swapped Ethernet & USB !
Has anyone seen my hacksaw…?
What a powerful little engine…
@wyleu
Why are you still here? Drive to Cambridge and buy the hole stock.
Many have indeed asked. . .
Course some of us now have the new playable webconf . . .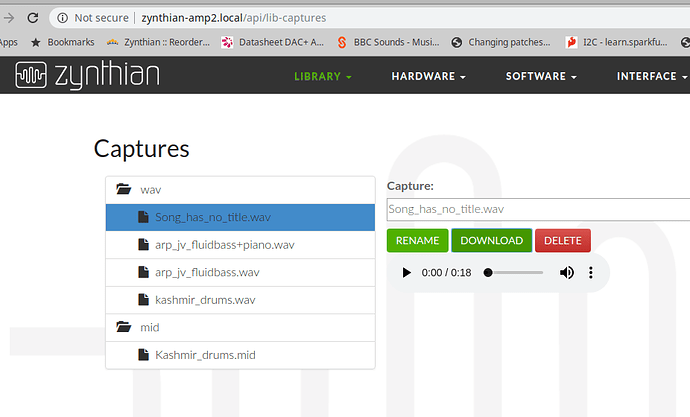 I topped and tailed it, hence the missing 8 seconds . . .

Record Functionality, ogg download and Status echo and if we did top and tailing we could dump the Audacity step and operate entirely remotely of a zynth being played by someone else like, Richard my ghastly son, you can play the piece far better than I can. . . .




your wife and kids?
I just ordered a 4GB version
They have my true worth displayed on a two line display on a raspberry pi in the kitchen. . . .
It's somewhere between the piano and the playstation .
I thought it said "Got milk?"
That's approximately my value.
But at least lactose free…
Don't let them get the idea of a cow…
The standard reply to any of the frequent discussions of my own demise is,
'At least we'll get a cat . . .'
And they almost don't live here anymore

I'm sure I will buy one reasonably soon. Fair bit of rejigging to encompass it in various cases. How far back are we going to support, Do I get my audio headless zero's yet ?

Wow! I had given up on a new RPi anytime soon due to them categorically stating it would not appear before next year. I have just been told by the boss that we need a vacuum cleaner before a new Pi. That might not stop me though! And I was actually tempted to drive to Cambridge (which is closer to me than @wyleu but I should really get on with my day job (and installing running water back in my home). I guess we start to look at what a Zynthian Pi 4 looks like as soon as we have one in our grubby little hands but it may take a while before it becomes the standard. (At least a few weeks…). I am excited!
Oh! And maybe Pianoteq will play without x-runs… well there is always hope!
Me too, at the exact time they opened sales


It was supposed to be delivered today, but it's a local holiday, so it will be delivered tomorrow.
(it will replace the main board in my "VideoRecorder'o'Death")
PoE was available even in RPi3, with the same hat you'll need on the 4: https://www.raspberrypi.org/products/poe-hat/
And beware: the hat WILL require an 802.3af compliant power source, and the Ubiquiti PoE Injector is not one.
Yes, I knew it was on the 3. The fact that they've not moved the connector means they see it as an important mechanical interface going forward ( More important than the actual Ethernet connector :-D.Certainly, from a little reading it's all fairly non compatible at the moment. Hense the existance of pointless devices like this …
https://www.broadbandbuyer.com/products/16618-ubiquiti-ins-8023af-i/
But I like it for stage use. Get's rid of cables and stage wall warts. Got to be a good thing.
Anyone think of any easy way of getting 60 or so volts in the middle of a field

Presumably with the specific new power supply, (probably a recommendation for Pi 4 zynthian power supply) we can assume it's upped it overall power consumption even if it does promise to shunt a fair bit of current down parasitic USB's
and don't forget the edge connector hell of the POE HAT …
A breeze…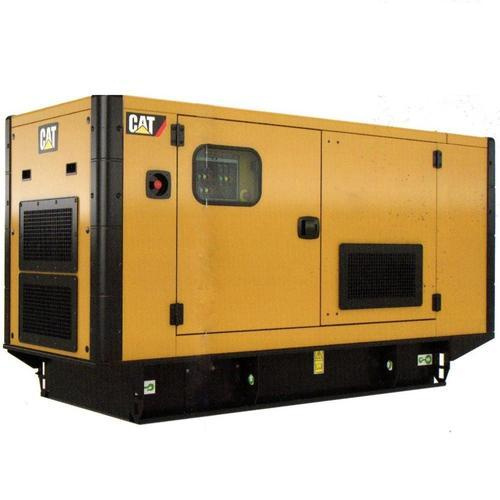 That's got to be worth a musical forfeit
…
It's like the world cup round here…
We are getting VERY strict.
…those stupid budget constraints…

But I know the problem wery well. Once, I had to build a ligthing system for my wife theater group, 'cause they had to do a show in the middle of nowhere. I used two UPS batteries, 12V LED lights everywhere, and a customized inverter to power the amplifier at the needed voltage without too many conversions and efficiency loss.
And I've been able to make a system fully contained in a suitcase.
Well, probably if they had traveled by plane they would have been arrested immediately, seeing the appearance of the object, but …

And BTW: I reused the "box" with a 3A 12->5V converter, and it kept a RPi powered for almost 3 days (I was tracking a random RF signal)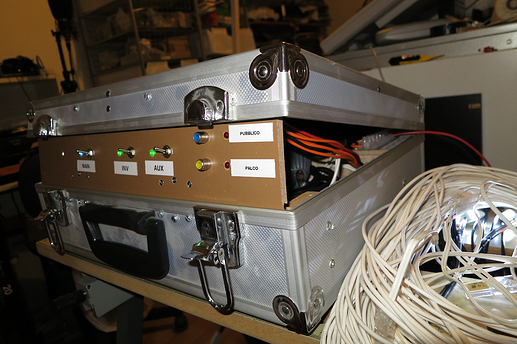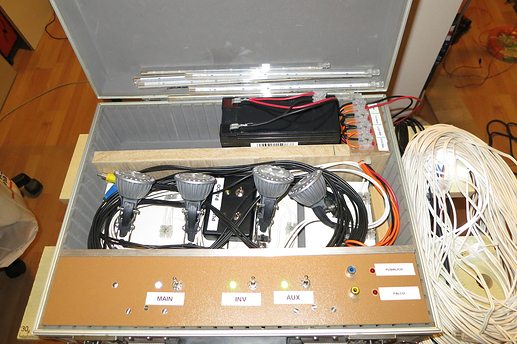 Very impressive…!! I did a MIDI controlled lighting controller that ran off 28 Volts AC bent out of a 240 Volt unit to power early halogen bulbs… Saved lots of local transformers …

We don't like mains power do we…?
But, I didn't get my sound sample …
I could send the Cameroonians round …
Listen better! I was playing a FANTASTIC and VERY ARTICULATED version of 4'33" by John Cage.