Hi folks.
I'm triyng to make a cover of Premiata Forneria Marconi's Impresioni di Settembre (Link)
I'm not very good at sound design or keyboard playing, but I think that I get a decent result on the solo using zynaddsubfx on Ubuntu:

To make this I used the following setings:
mode: legato
portamento: on
portamento threshold: 5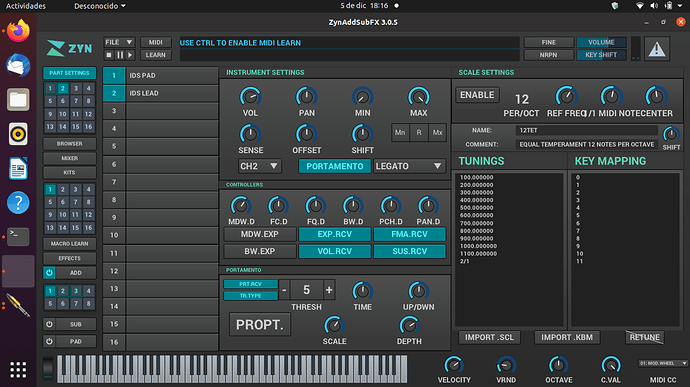 But I can't get the same result on zynthian. I try to set legato on, poly off and portamento on, but it doesn't work. The sound is polyphonic (i can make chords), is not legato (it retriggers the modulations) and portamento hapens even if I cut the phrase.
I left my xiz files of the pad and lead that I'm using, in case that someone likes the sound:
0030-PFMIDS-PAD.xiz (1.8 KB)
0031-PFMIDS-LEAD.xiz (3.8 KB)
I will appreciate any help.