I am not able to get my Zynthian working as a Network device nor does it allow me to activate the Wifi, so I could use the OSC Bridge. RTP MIDI is activated and shows up in my network MIDI setting on my Mac, but gets kicked out after a few seconds.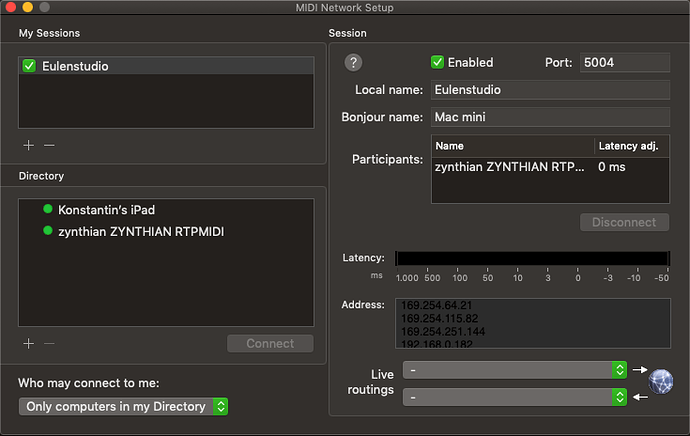 There is only one way I can get it to work with my DAW by connecting a USB MIDI hub.
I tried everything to activate Wifi and it gives back an Error, which I reported in the Wifi issue topic here in the forum.
RTP-MIDI is activated and it shows up, but as you can see on my screenshot something causes it to get kicked out. I did deactivate the Firewall to see if it may cause that issue, but no changes.
What the weird thing is:
OSC Bridge is activated and on my Mac as well. I also use an iPad with TouchOSC and since Wifi is not working I tried to connect the iPad via USB to the Zynthian, but the Zynthian does not show up as a device.
When I connect my iPad via USB to the Mac and the Mac has the OSCBridge active, then the iPad shows me the Zynthian, so via this extra, I can actually OSC control the Zynthian with my iPad.
It is very confusing and I can't find a way to get any further with this issue.
So, again: OSC Bridge is on, wifi does not want to activate, USB does not show Zynthian as OSC host/device and when I add the RTP MIDI connection to the MIDI network it gets kicked out within seconds.
Help would be appreciated.