Hi,
Here I come again, after reading a lot of zynthian-UI code and thinking about it a bunch, and realizing this is a big task BUT I do have the experience to pull it off, I just need a deeper understanding of the codebase and to iron out some quirks and learn some stuff.
Maybe this could be a midiFX layer added on top of the synth, that has presets for the layers that you specify, this could simplify things a lot.
The main idea is to be able to make a "controller grid" page, a 2 by 8 (or X by Y) grid with the names (or abbreviated names) of parameters and their values, read a certain midi value for each parameter (regardless of the actual layer midi mappings), with the objective of being able to use 1 midi controller (think nanokontrol or launchcontrol XL) as more of a physical synth interface, by displaying in our already existing display what we would in a controller display (if that makes any sense)
If you're not understanding me think of the faderfox ec4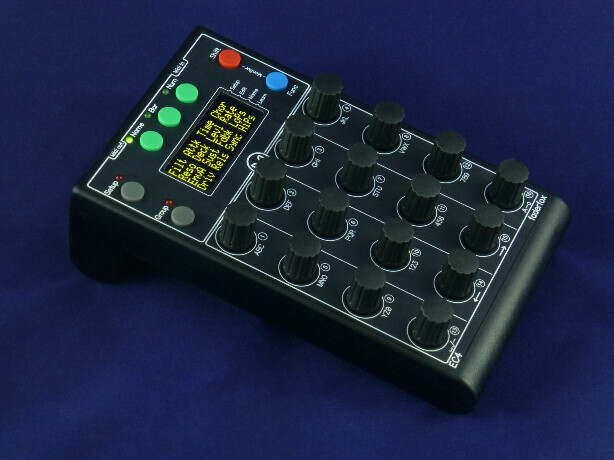 Where the Zynthian takes on the upper part of the device, making an otherwise "dumb" and cheap midi controller with 8/16 controls into a potentially infinite number of them (4 pages might be enough).
Other points:
The midi channel of the controller grid page is attached to the midi channel of the layer used.
There can be more than 1 controller grid page for each layer(maybe switch between them with a specific cc?) the page stays as the last one accessed.
This might add unnecessary complexity (and it does) to anybody that does not use it, so making it adjustable either through the admin panel or webconf might be of interest.
some layers might not need it at all, so make it so that anybody could build their own(maybe a JSON file related to the layer).
Open a feature request I hear y'all screaming, but wait, I have my reasons not to (yet).
I think this feature is pretty huge, especially after reading some of the code and trying to understand the architecture behind the controller pages, so I don't want to open such a wide, ambitious, and specific feature request without a PoC of this working in my computer with jack, Alsa and midi.
As so this post is to be used as a place to discuss the stupidity of this idea, the uselessness of such a feature and the many ways I have gotten it wrong, and also to help me along as I'm building this for DAAAAAAAM SURE as I've basically sold all my hardware synths and this is my only option.
PD: Huuuuuge missed oportunity with "Zyntherface"